Blog
Blog
read all our news below
Is Santorini Good For Families? It Sure Is
29 MARCH 2023
Is Santorini good for families? The answer is a resounding yes! Santorini, with its breathtaking landscapes and rich history, offers endless opportunities for fun and adventure, making it the perfect destination for families looking to experience a memorable island getaway. Santorini offers a variety of activities for families, including swimming, snorkeling, water sports, and historical sites.
From its pristine beaches and crystal-clear waters to its fascinating archaeological sites and charming villages, Santorini has something for every member of the family to enjoy. So yes, Santorini is good for families, whether you're looking for a relaxing beach holiday, an exciting adventure, or a cultural experience.
Families seeking a comfortable and enjoyable stay in Santorini should look for a hotel that caters to their needs and offers a range of amenities, activities, and family-friendly rooms with adequate space, as well as a pool, which can provide a safe and comfortable environment for kids to play and relax. The location of the hotel is also important, as it should be conveniently located near amenities and also be easily accessible. Kalisti Hotel & Suites offers all of this and more. We are committed to making your family holiday in Santorini exceptional.
Kalisti Hotel & Suites is situated in the heart of Fira, the capital of Santorini, and just minutes from the Caldera, museums, restaurants, shopping, and bustling nightlife, only 6 km from the airport and port.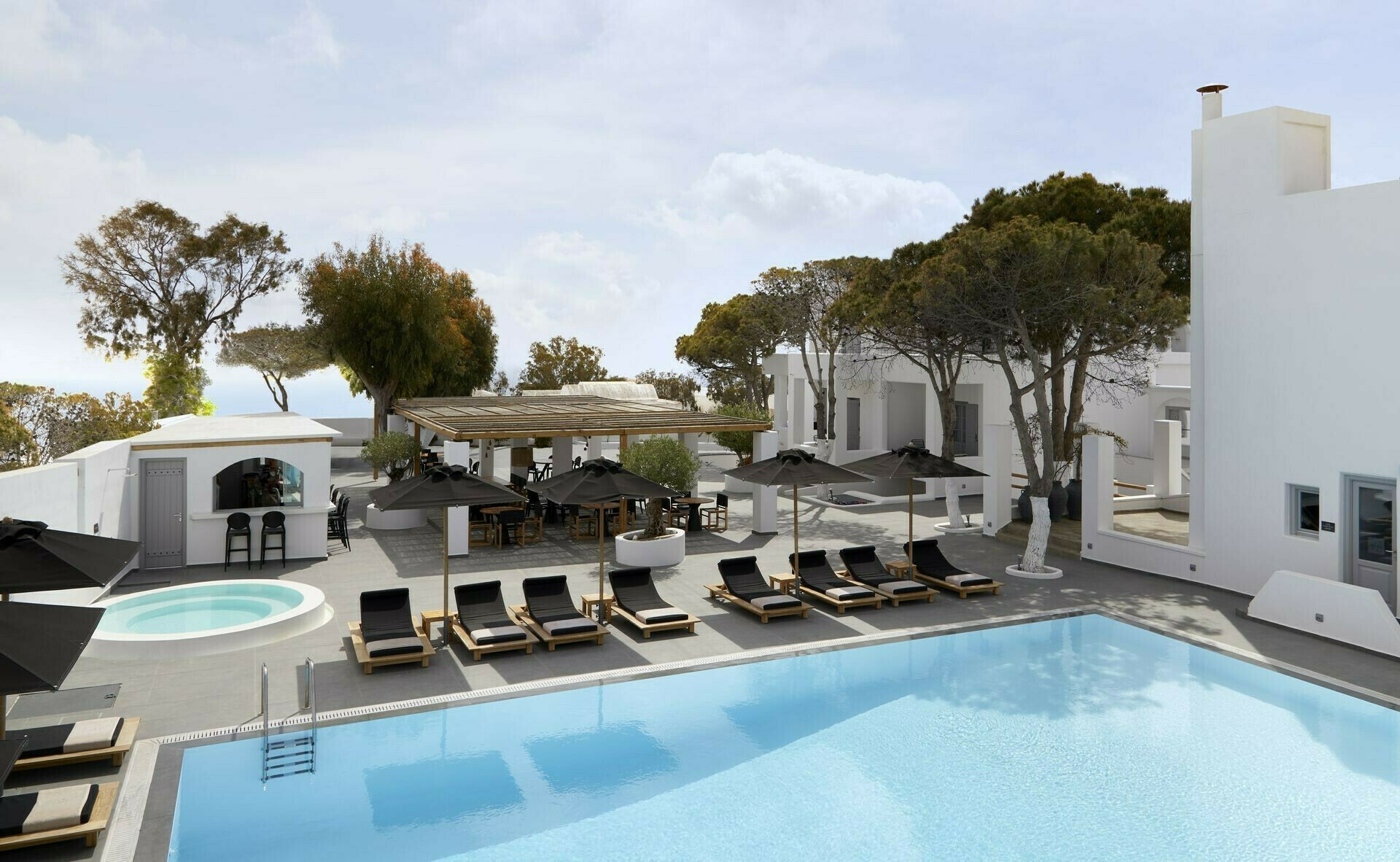 The hotel features traditional Cycladic architecture, with details made from volcanic stone, creating a peaceful and serene atmosphere. Guests can enjoy spacious and comfortable rooms with a mix of traditional Cycladic architecture, modern design, and beautiful garden views. The rooms & suites range from 50 sq.m and are equipped with all the necessary amenities such as air conditioning, a 22" LED TV, a mini bar, a safe deposit box, a private balcony/terrace, and more. The hotel's 24-hour reception desk can assist with airport transfers, car rentals, laundry services, excursions, and so much more. We take care of you, so you can enjoy a stress-free, relaxing, and memorable holiday with your family in Santorini.
Guests at Kalisti Hotel & Suites can lounge at the absolute largest pool in all of Fira, enjoy drinks and snacks at the Pergola Pool Bar and dine on local Greek and Mediterranean cuisine at the Rosemary Restaurant.
Not only is Santorini good for families, but it is also a family holiday destination that really delivers. From family-friendly beaches, sightseeing, hikes, and historical landmarks, Santorini will delight the entire family. Here are some places and activities in Santorini, recommended for families:
Perissa Beach:
This black sand beach offers waters with a gradual depth making it ideal for families with young children. There are also sun loungers and umbrellas available for rent, as well as a variety of water sports activities.
Red Beach:
This stunning red sand beach is a popular spot for families to relax and swim and is surrounded by impressive red cliffs.
Vlychada Beach:
One of the lesser-known beaches in Santorini that is good for families and has a striking, lunar appearance due to the peculiar limestone cliffs.
Kamari Beach:
This popular sandy beach offers crystal-clear waters and a variety of beachfront restaurants and cafes.
Ancient Thera:
The remnants of Santorini's ancient city offer families a glimpse into the island's history, with well-preserved ruins and stunning views over the Aegean Sea.
Santorini Volcano and Hot Springs:
A visit to the volcano and hot springs is a unique experience for families and the kids will love learning about the geological history of the island.
Museum of Prehistoric Thira:
This museum showcases the history of the island and its ancient civilization, with exhibits and artifacts that are both educational and entertaining for kids.
Amoudi Bay:
This picturesque bay offers stunning views and is an excellent place for families to relax, swim and enjoy a meal at one of the seafood tavernas.
Skaros Rock:
is a must-visit in Imerovigli, famous for its towering rock formation and once a Venetian castle. From its peak, enjoy panoramic views of the Aegean Sea, the caldera, and nearby villages.
Diving/Snorkeling in Santorini:
The island's underwater world is truly a marvel to behold. Children of 8 years and above can try diving in Santorini for the first time.
Sailing around:
Discovering the beauties of Santorini coast-to-coast and from a unique vantage point is definitely an experience the entire family will enjoy.
Explore Pyrgos:
Pyrgos showcases a more tranquil side of Santorini, reminiscent of the idyllic Greek villages of the past. Take in stunning views from Pyrgos Kastelli. Choose from a great selection of traditional tavernas and restaurants, offering delicious local cuisine. Pyrgos is also an excellent destination for hiking and exploring.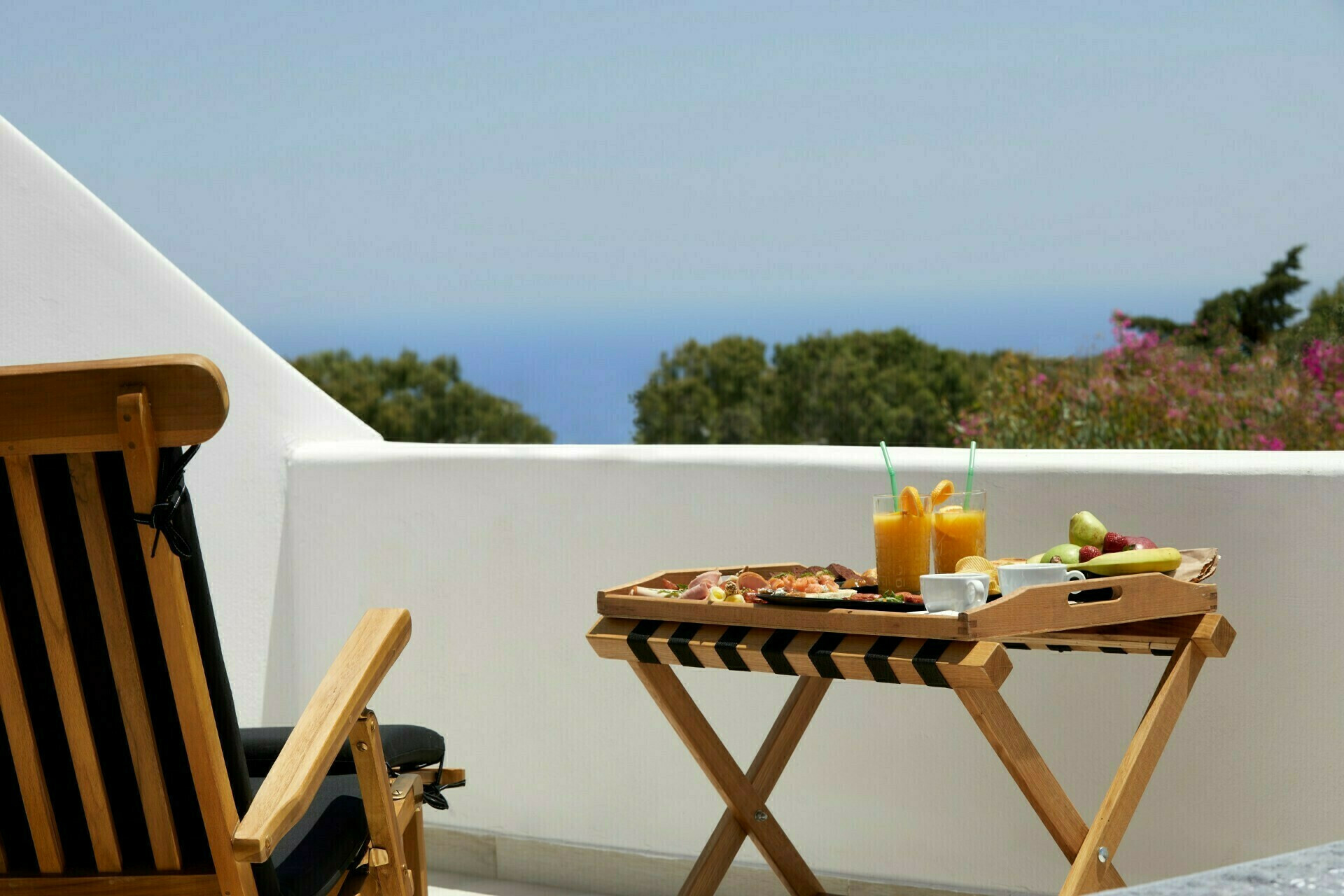 So, is Santorini good for families? Santorini is better than good, it is an ideal destination for families, offering a range of family-friendly amenities, activities, and attractions. From the stunning sunsets and picturesque beaches to the rich history and cultural experiences, there is something for everyone on this astounding island.
With so much to see and do, families are guaranteed to have a comfortable and memorable stay in Santorini. So, if you're looking for a family-friendly holiday destination that offers adventure, relaxation, and fun, look no further than Santorini. Book your family's next holiday in Santorini with a stay at one of our spacious rooms, like the top-floor Prestige Suite with a private balcony & sea view, and make memories that will last your family a lifetime!