Blog
Blog
read all our news below
Reasons to visit Santorini in Spring
29 APRIL 2022
Santorini is, without a doubt, one of the most beloved summer destinations worldwide. It is the crown jewel of the Aegean Sea, if not the Mediterranean, attracting hundreds of visitors every year. Most travelers are drawn to the island for the million-dollar sunsets, the unique Cycladic architecture, the deep blue infinity sea views, the colorful beaches, shops, restaurants and nightlife. However, the island has so much more to offer, and Spring is the perfect time for that. Read on for all the reasons to visit Santorini in Spring.
Less crowds - slower pace
Perhaps the most important of all reasons to visit Santorini in Spring is because it is definitely quieter. Maybe not as quiet as your "me time" at a private jacuzzi suite at Kalisti Hotel, but close enough. Off-season, the rhythms are slower and the island delivers seclusion and relaxation above anything else. Now is the best time to discover the island's star quality at your own pace, without the overwhelming crowds. You can have Santorini's most photogenic spots all to yourselves and enjoy the peaceful uninterrupted beauty, elegance, luxury and cosmopolitan vibes.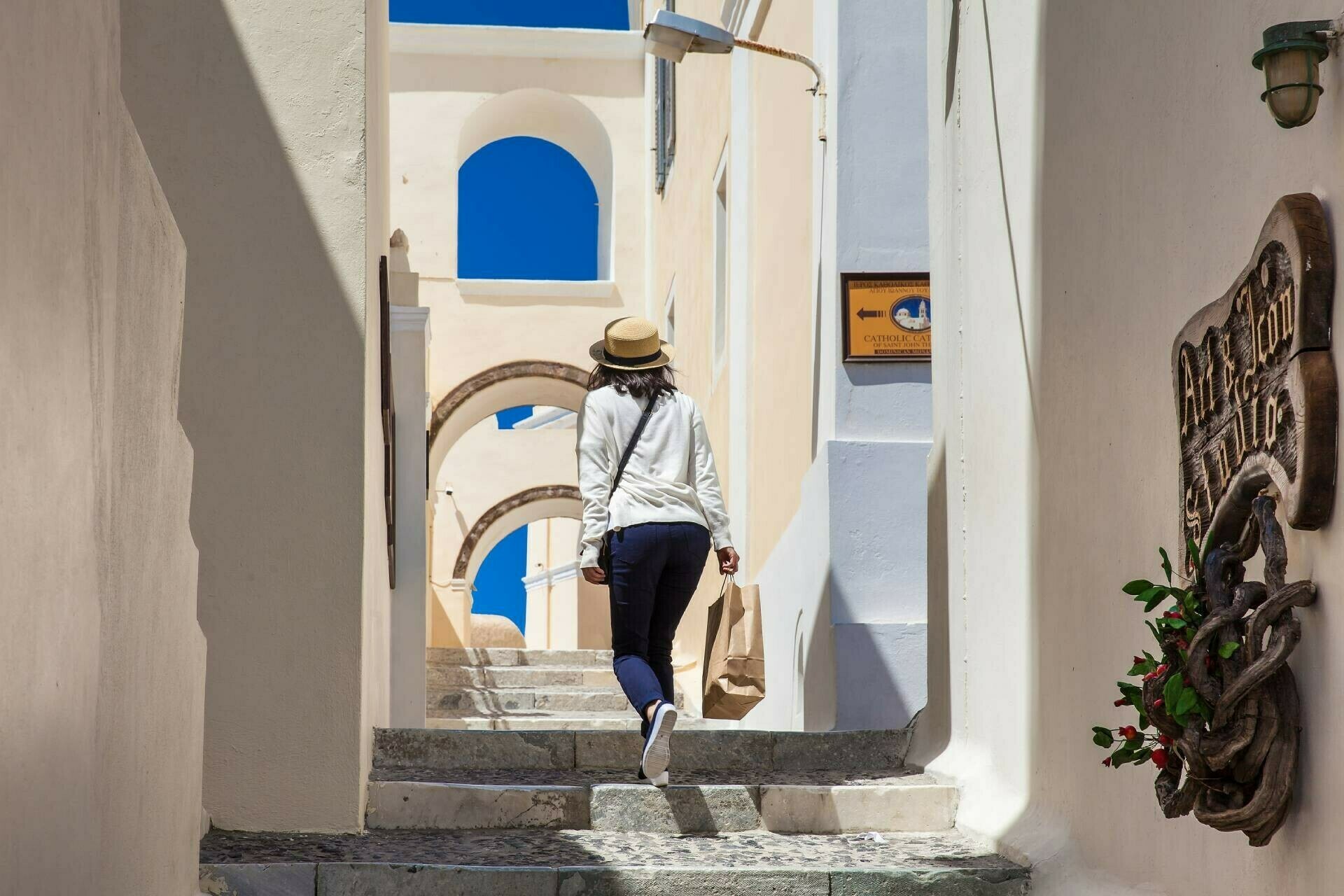 Better prices
Off-season rates are more budget-friendly. Santorini island is known for being a high-end destination, but for mid-late Spring there are more affordable options. However, there is one argument that says that when you are in Santorini, you should not save on your accommodation if you want a premium experience. Splurge on Kalisti's Royal Suite to enjoy a private pool with stunning sea-views but be sure to check out our offers for the best rates and privileges on your upcoming stay.
Gastronomy
Fresh spring products like fruits, vegetables and local seafood are in their prime. Traditional Santorinian gastronomy magically combines them into perfection. You should definitely try the famous fava and small tomatoes, the cod, and the scandamacarona (meatballs of various herbs and vegetables). Last but not least, don't forget to visit the award-winning wineries for tasting Santorini's world renowned wines and of course, a taste of the divine in a glass, largely known as Visanto.
Weather
The weather in Santorini in Spring is even more wonderful. It's sunny and warm, without being unpleasantly hot. Day temperatures are mild and comfortable and although the water may still be somewhat cold, you can still go for a swim or chill by the pool. In addition to your beach and hotel leisure moments, the weather is ideal for sightseeing and walking around the cobblestone streets. Start with a visit to Ancient Thira and Akrotiri and lose yourselves to the unique scenery of colorful nature next to the remnants of the island's ancient civilization.
Activities
For the most active ones, Santorini in Spring offers various options that combine sports with island exploration. Hiking is a fascinating experience, enhanced by the amazing aromas of wildflowers, along with the stunning views of the landscapes in full bloom and the deep blue Aegean sea as a backdrop. You can find many hiking trails ideal for nature and adventure lovers to discover Santorini up close. Mild temperatures make hiking on these paths a real pleasure, in contradiction to the summer months where temperatures are much higher and the endeavor is less comfortable. We suggest trekking from Oia to Fira or up to Oia Castle to catch the notorious Santorini sunset.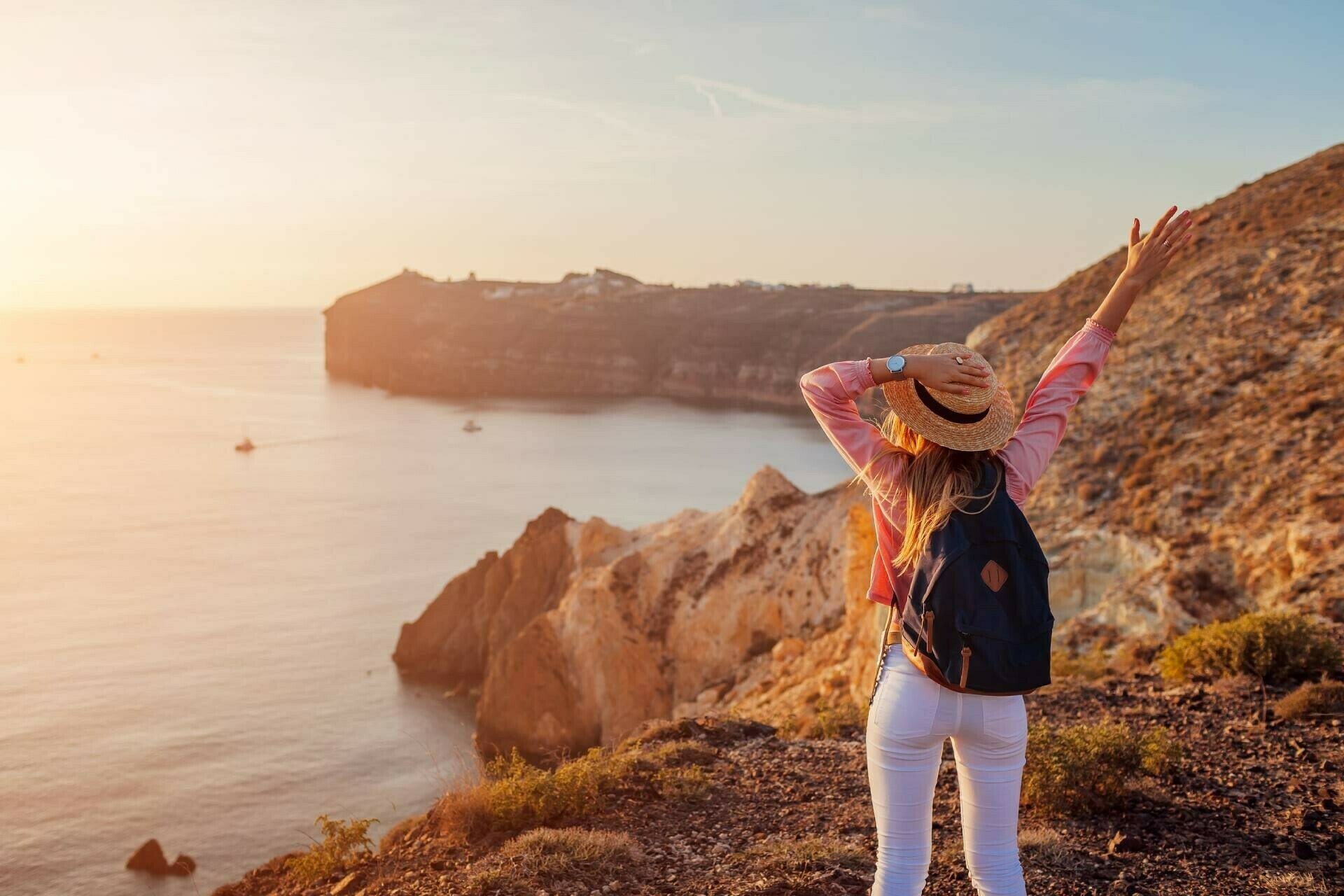 Nature
The scenery around the island is always majestic, but during springtime with lush greenery and blooming flowers, is a sight for sore eyes you won't be able to enjoy in any other season. Santorini in Spring means beauty in nature, but on a whole other level. Imagine a volcanic island in a "super bloom" phase. The deep blue of the Caldera blending harmoniously with the colorful surroundings, the highest points of the cliffs offer a beguiling vantage point from which to admire the landscapes more charming and seductive than ever.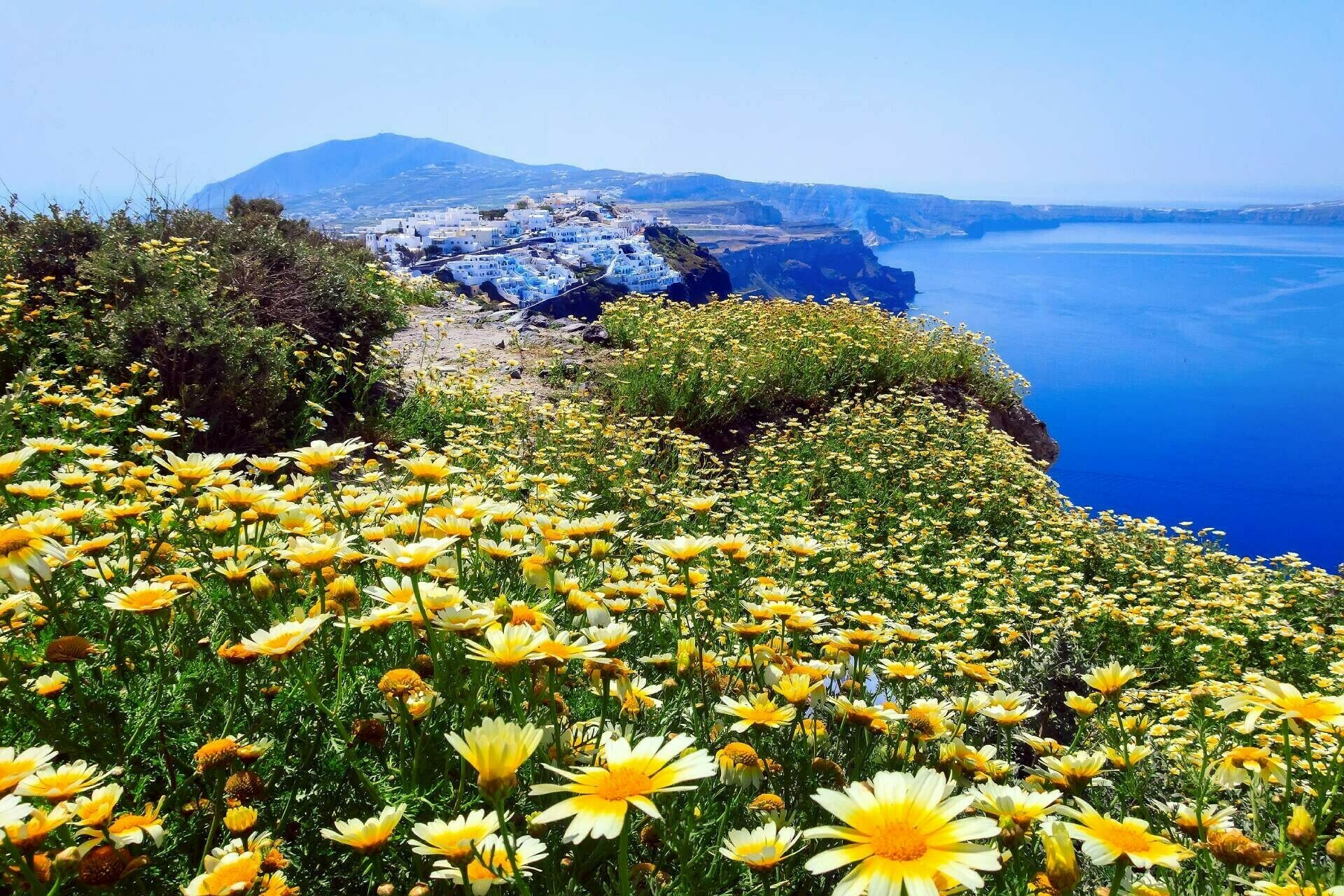 Romance
No matter the time of the year, Santorini's sunset remains gorgeous. However in spring it feels even more personal with no crowds around. The air is so fresh and the visibility way better. This calls for a romantic escape with no second thoughts. Romantic spring weddings or honeymoons just found their perfect timing and setting. We recommend an oasis of leisure back at Kalisti Hotel, perfect for newlyweds, or for people just being in love.
So many reasons, so little time. Make the most of it to experience a magical place at the most magical time of the year and start believing in miracles.