Blog
Blog
read all our news below
Discover Santorini's traditional villages near Fira
24 JULY 2020
Santorini is without a doubt the crown jewel of the Cyclades and mystical treasure of the Aegean. Much has been emphasized regarding the fairytale aspect of the island, about the dramatic cliff of the Caldera, the colourful beaches, the mesmerising sunset. This is the overexposed and overly photographed side of the wonderfully diverse Santorini and what most travellers are initially attracted to. However, if you wish to discover another side of the island that will offer you new insight on the local fabric of the island's culture, then our recommendation is to visit some of the wonderful Santorini traditional villages near Fira.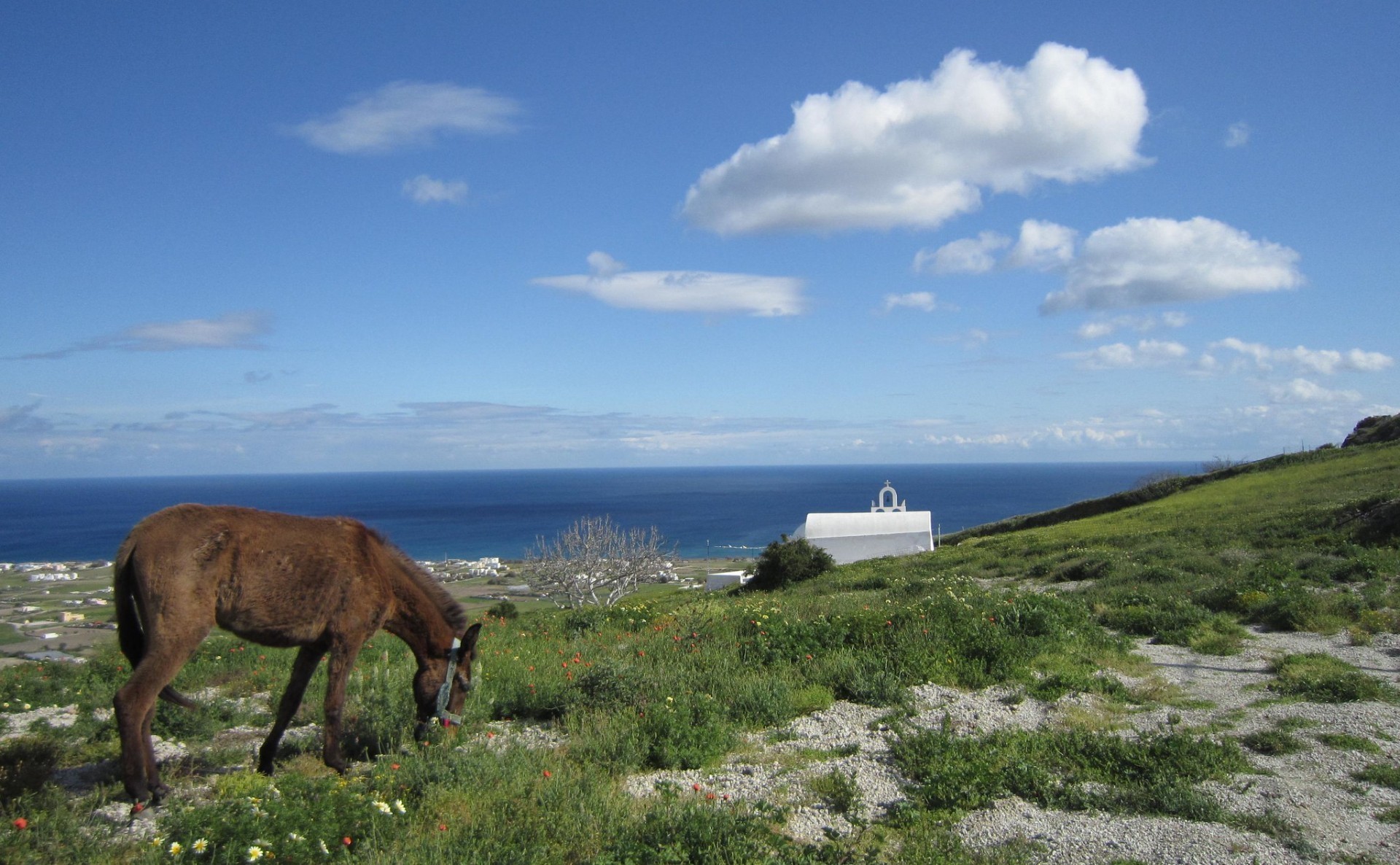 Santorini traditional villages near Fira:
Fira, the capital town of Santorini, is the homeplace of our Kalisti Hotel & Suites, one of the most popular spots to stay in, due to its central location. Fira is more of a settlement rather than a village, so if it is the rustic side of Santorini you are looking to discover, check out the below mentioned Santorini traditional villages near Fira.
1. Vothonas - 3 km from Fira town (3 minutes by car)
A wonderfully quaint Santorini traditional village, Vothonas is located in the center of the island and is tucked into a steep gorge. The highlights there include the cave houses that have been scraped into the volcanic rock while it also features the typical labyrinth of alleys with plenty of shops, stores, eateries and coffee shops to peruse. The most iconic amongst its many churches, is the Agia Anna church, with its blue dome and tower with nine bells. Vothonas is the first port of call for wine lovers, who will find Vothonas a highly interesting place to visit since it houses a famous wine museum that features dummy representations of the wine production process,machinery and tools on display in an old wine cave.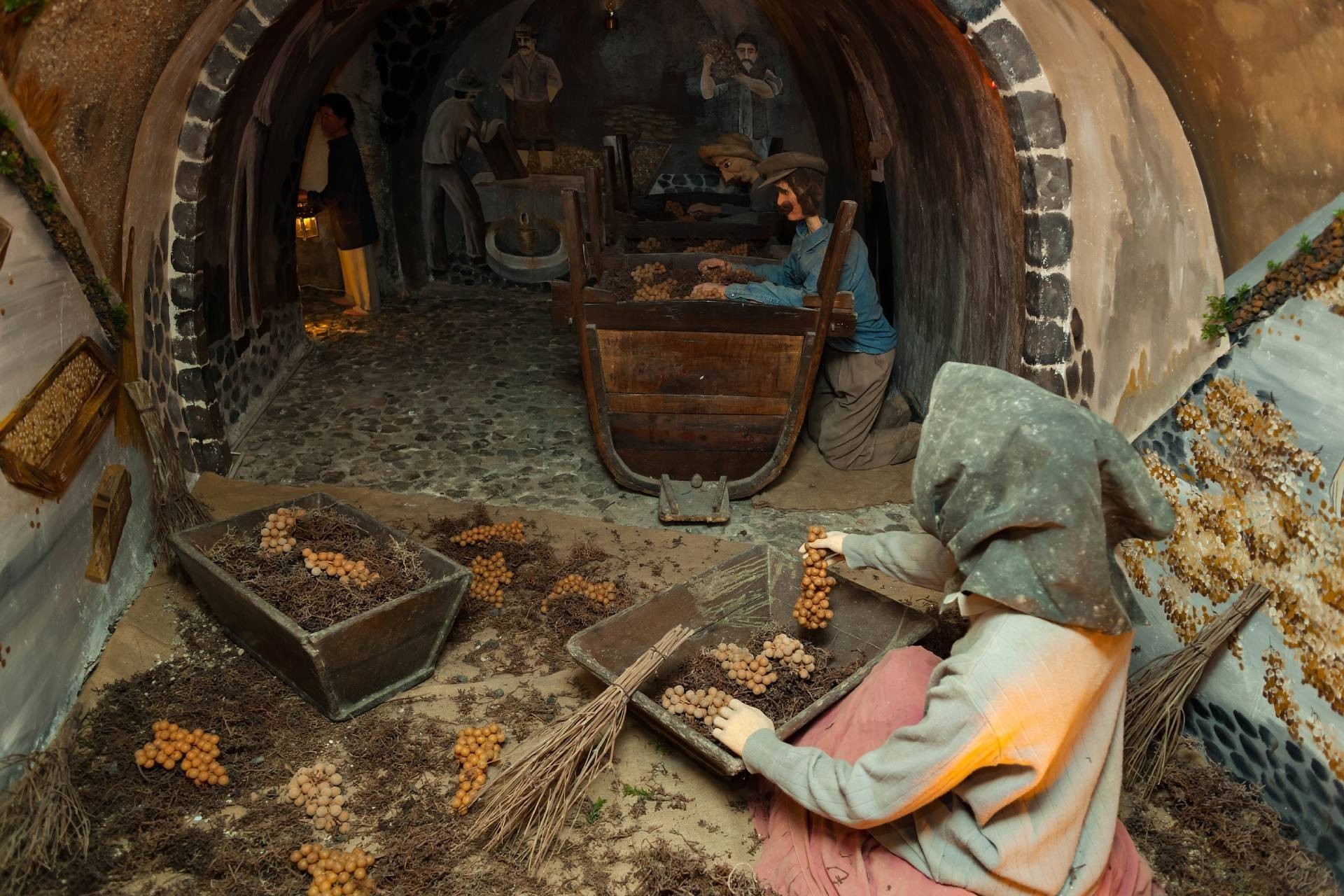 2. Pyrgos - 5 km from Fira town (5 minutes by car)
One of the most stunning Santorini traditional villages to visit is Pyrgos, built upon a hill, at the foot of Mount Profitis Ilias in a verdant surrounding of Assyrtiko vineyards. Putting on a spectacular show during Easter especially, Pyrgos village also has a Venetian castle to call its own. Its elevated position allows for some truly phenomenal 360 views of the entire island. Coupled with the typical alleyways that are home to a plethora of galleries, wine bars and artisan boutiques, there you can also visit Santorini of the Past museum that explores the history of the local island life throughout the ages.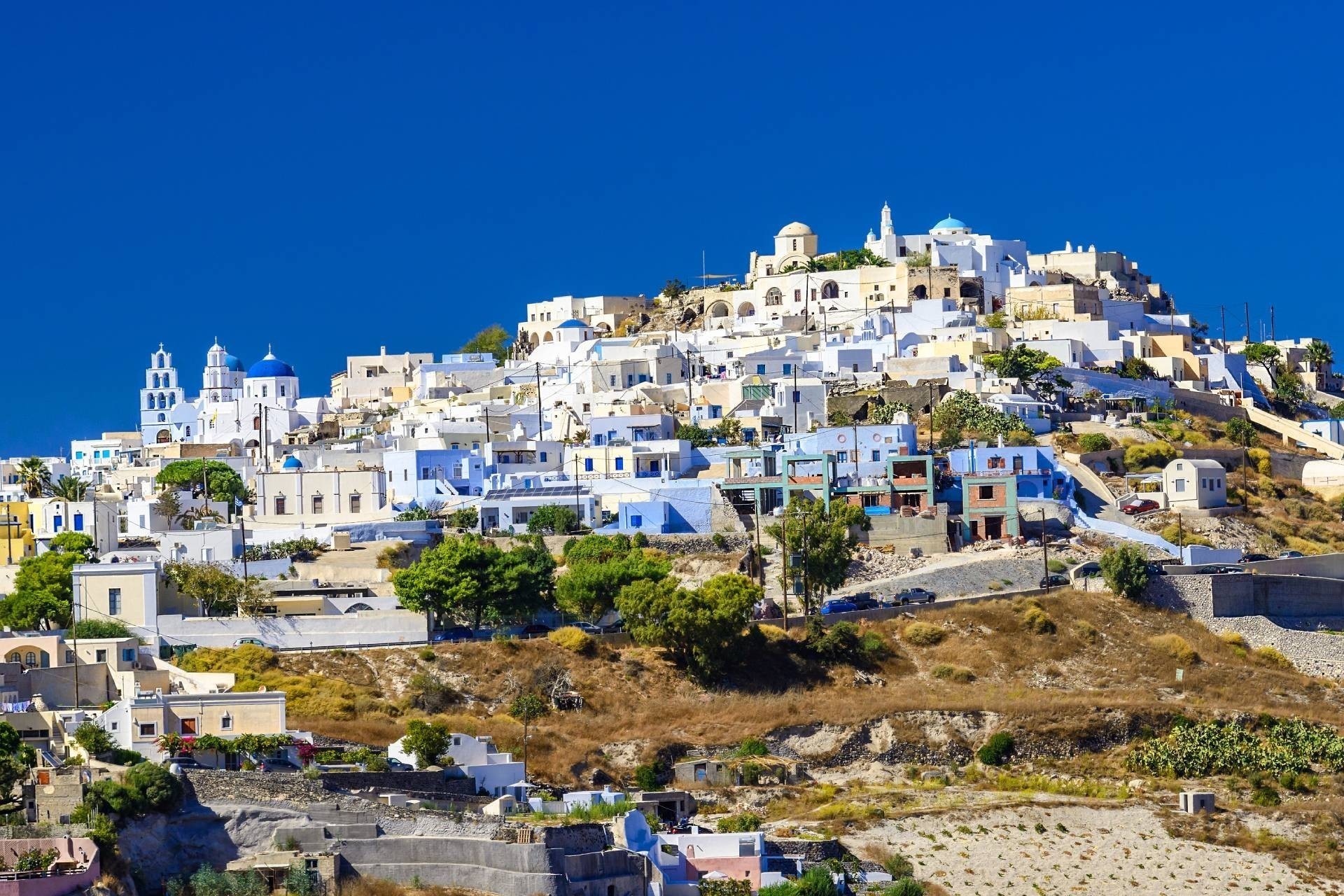 3. Finikia - 12 km from Fira town (20 minutes by car)
Found just before the popular settlement of Oia, Finikia comes to offer an equally admirable alternative. A traditional village that has emerged anew, Finikia is filled with authentic, cave houses that remind visitors of how island life in the past looked like and large expanses where a range of grape varieties for winemaking grow. It is peaceful and very colourful, as most of the houses you'll see are painted in pastel colours, in a similar style with Oia. The location offers incredible views too, overlooking the volcano and with a sunset-kissed sky as the most enchanting backdrop.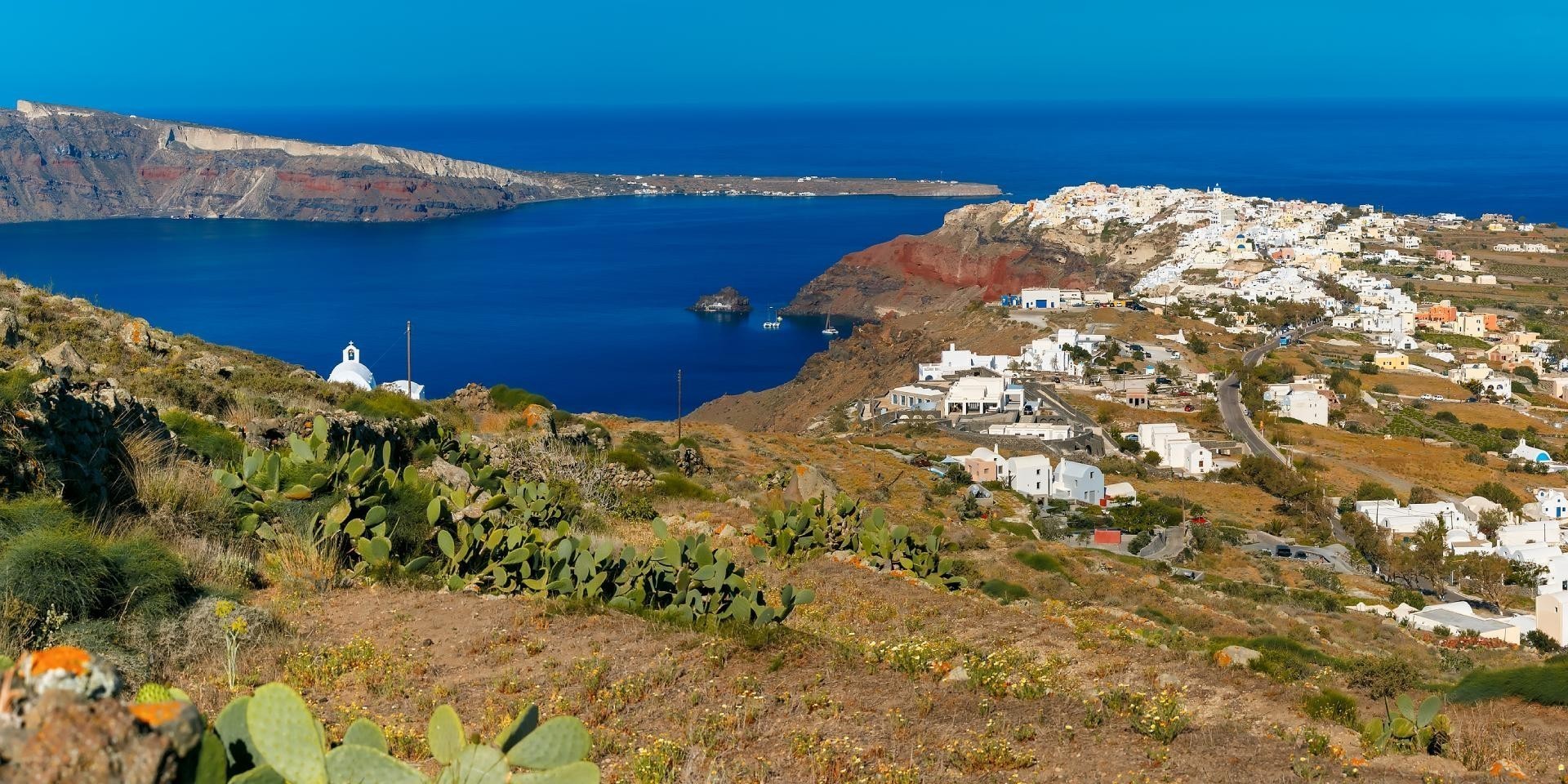 4. Emporio - 9 km from Fira town (15 minutes by car)
An in-land settlement in which many locals stay. It is a charming village, with white-washed alleys spread out like a labyrinth among which you will find many cute shops, stores and cafes. Showcasing its medieval roots too, Emporio sits beneath a ruined Venetian tower and a restored, 15th century castle that overlooks the village. Sauntering around the well maintained castle will prove to be a remarkable experience at one of the island's most impressive landmarks. Although it is a Santorini traditional village, it is, in its majority, modernised featuring many upscale bakeries and al fresco restaurants amongst some other beautiful buildings, 8 windmills in a row as well as an array of elaborate orthodox, blue dome churches.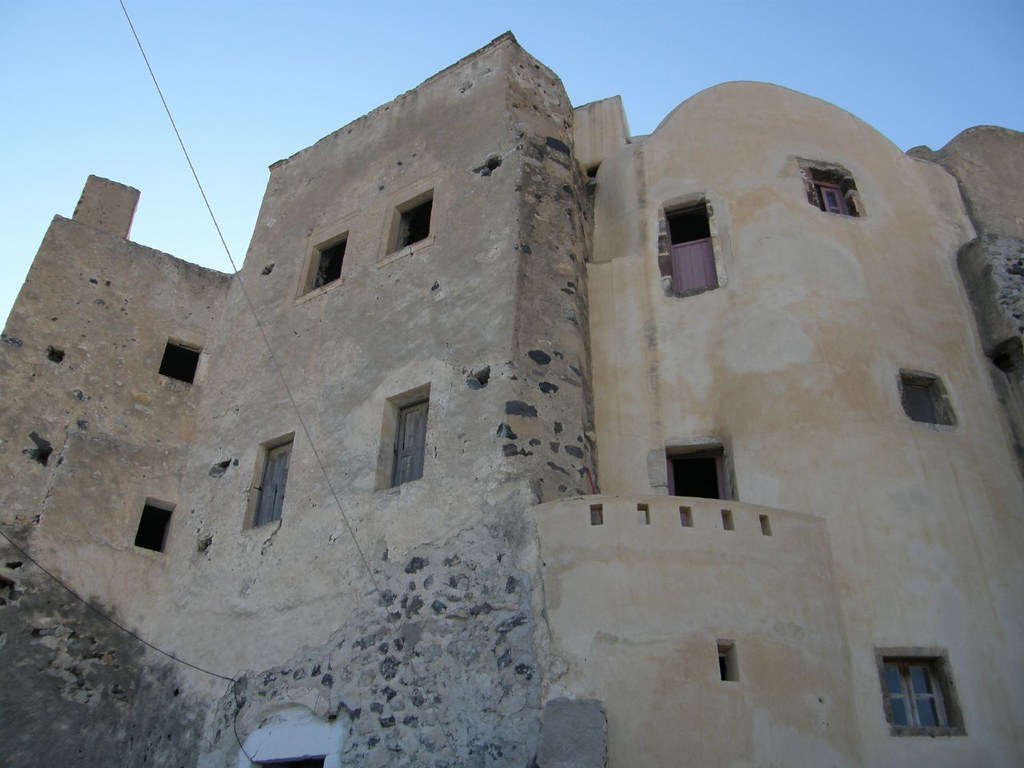 Book your Stay
best price guarantee