Blog
Blog
read all our news below
Things to do in Fira, Santorini
9 AUGUST 2022
Are you looking for the best things to do in Fira? Fira is the proud hometown of Kalisti Hotel, and the hustling and bustling capital of famous Santorini island. Perched on a 220m high cliff with legendary views of the deep blue Aegean Sea and the awe-inspiring Caldera, our postcard location combines the distinguishing Cycladic charm of pristine white and vivid blue settlements, blooming bougainvillea decorations, iconic domed churches, and precious sleeping cats, along with the buzzing cosmopolitan life of shops, restaurants, bars and nightclubs. The island's biggest and most vibrant town features a multitude of options for fun and pastime activities in which you may engage while exploring it. Here are some of our picks for the best things to do in Fira, Santorini.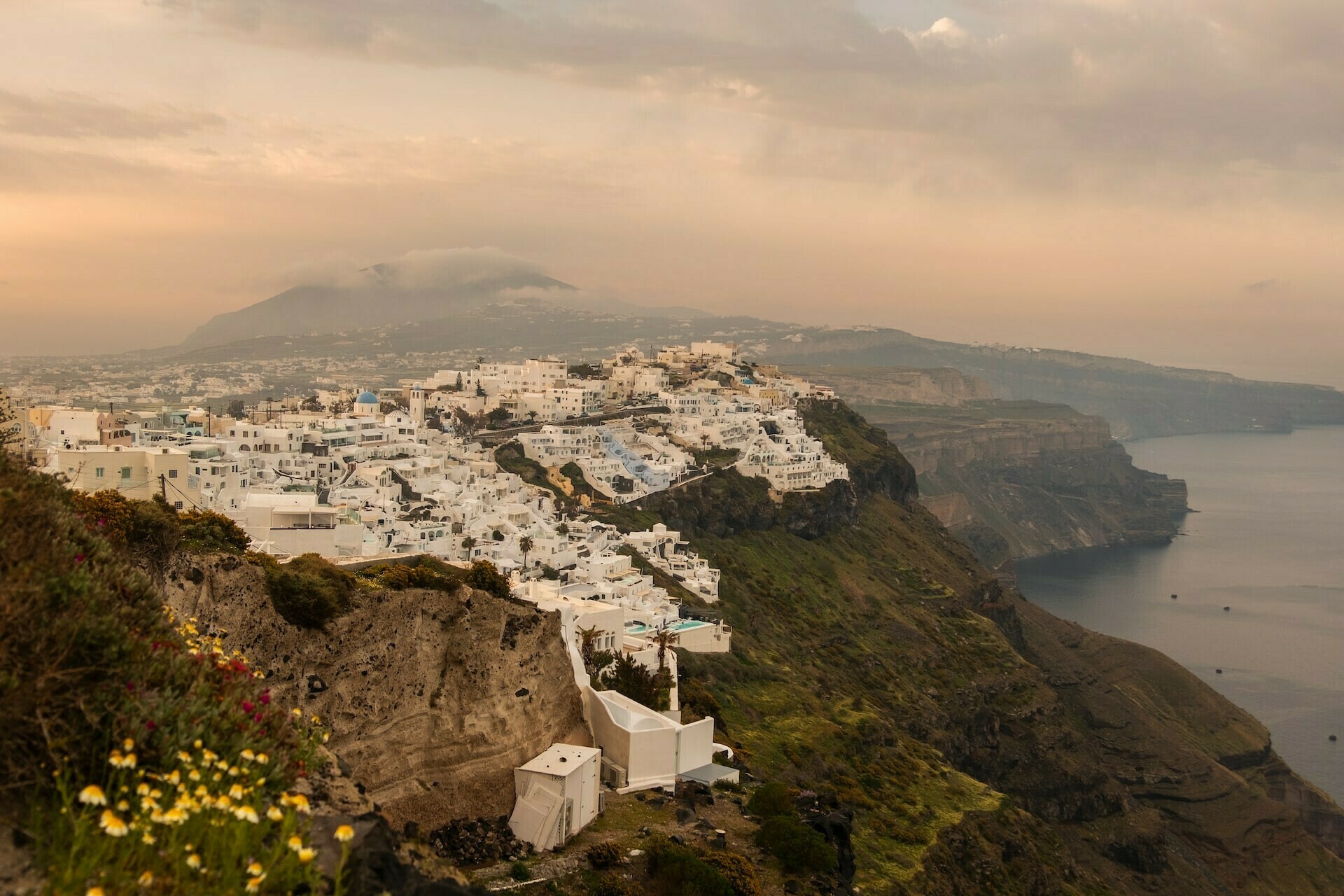 Watch the Sunset
Santorini is widely considered as the motherland of sunsets making this glorious spectacle an every-day cult event for both visitors and locals. Fira is undeniably one of the best places to watch the sunset with lesser crowds and a different than usual perspective. You can catch it from almost every corner of the town like the main street, bars, restaurants and other various viewpoints, or find your own secret spot to enjoy in peace. The most popular one is the promenade near the Orthodox Cathedral, or even on a sunset boat tour, while exploring Fira by its majestic sea routes. However, the most romantic setting in which to watch it in privacy is at your Royal Kalisti Suite plunging into your private jacuzzi, over a glass of eclectic Santorinian wine.

Wander the Streets
Walk through this small, quaint town to discover large hidden gems around this maze of alleys and streets like graceful chapels, arched doorways, secret viewpoints, colourful pot flowers and sunbathing cats. These consist of the most instagrammable spots in town, with the most famous one being the panoramic shots of domed churches as they wonderfully dot Fira's skyline. It will take you only half an hour to traverse through, unless you stop for food, drinks, shopping, dancing or museum touring that are only some of the things to do in Fira. You can upgrade this strolling activity with an amazing hiking experience taking the path from Fira to Firostefani for amazing views of the Caldera rim.
Savour The Local Gastronomy
We suggest you make a food map and mark your way through the town in the most enjoyable way possible. Feast on the Greek food with the classics like gyros, moussaka, kleftiko, spanakopita and choriatiki (aka Greek) salad, but also be sure try the local Santorinian specialities like fava (a yellow split pea puree), ntomatokeftedes (tomato fritters), saganaki (fried cheese), and melitzanosalata (paste dip of white aubergines). Pair with the finest wines of our 3000 year old tradition, or, if you prefer, the island has a few tantalizing beers to show for from local craft brewers. Leave room for dessert and order the baklava (thin filo pastry layers with nuts and syrup). For a more modern take of local Greek specialties and Mediterranean flavors, you can visit our own, Rosemary Restaurant at Kalisti Hotel.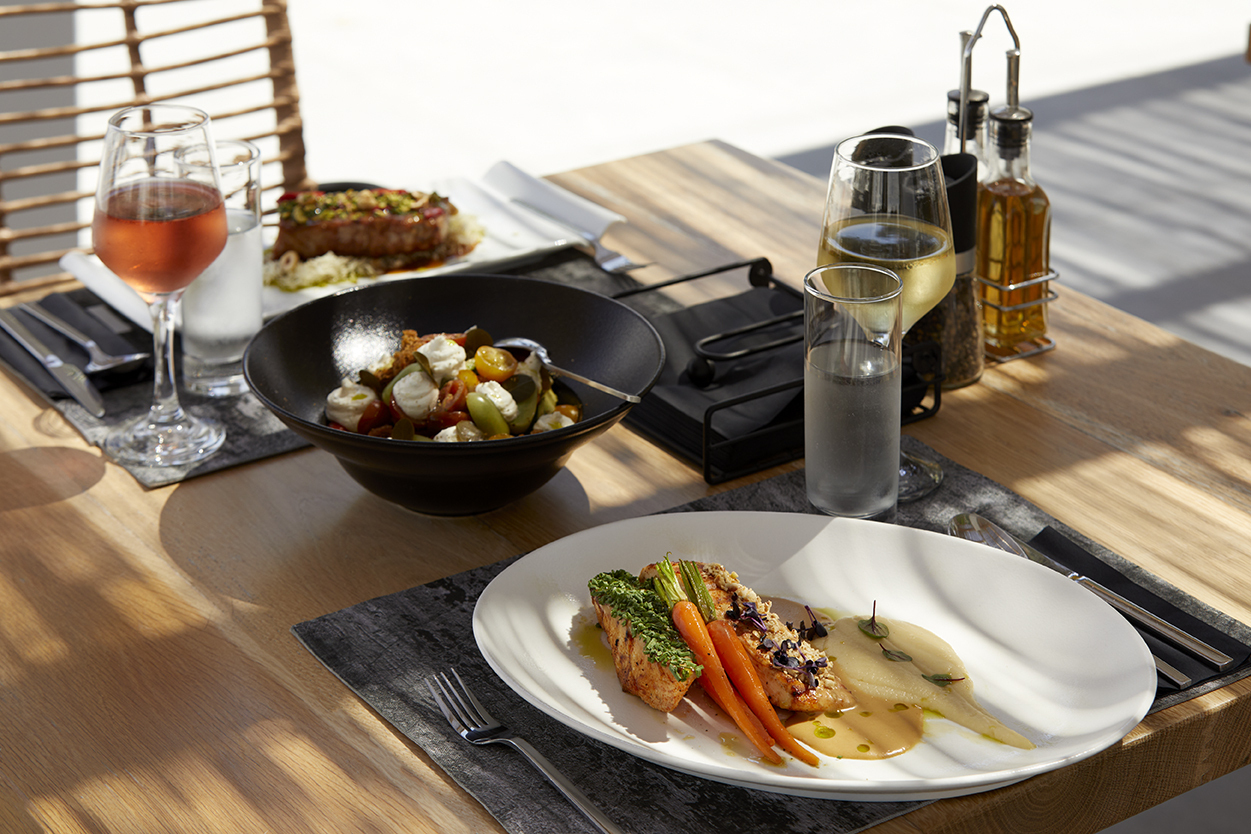 There are so many things to do in Fira, the all-day-and-night live capital of Santorini, from history lessons, photoshoots, wild parties, nature-loving activities, romantic dinners and so on and so forth, that will never disappoint or cease to amaze you. Kalisti Hotel presents itself in a central spot as your perfect base to explore the area, or just stay in and soak up our pampering services, which we know is one of the best things to do in Fira as well.